Step Aside PSL, Mini Pumpkin Spice Waffles Are Here!
---
It's that time of year again. It's BACK. Everything, and we mean everything, (even stuff that shouldn't be, i.e.- spam) has gone pumpkin spice. We're not sure about canned processed pork, but we know one thing, no crisp fall morning can be complete without a mini pumpkin spice waffle. 
Put down your chaffles (Keto cheese waffles), and MCT oil, (we won't call the Keto police on you, we promise) because breakfast has just gone autumnal!
You might not even need your basic fall latte once you get your hands on the DASH PUMPKIN MINI WAFFLE MAKER. That's right, we said it, MOVE OVER PSL: A new breakfast staple is in town! If the adorable shape wasn't enough to spark joy in your kid's (who are we kidding?—YOUR!) heart, then you can take the whole thing to the next level with our pumpkin spice waffle recipe. Ditch the frozen food aisle and get festive and/or spooky in your very own kitchen.
2 cups all purpose flour

2 tsp baking powder

2 tbsp pumpkin pie spice

1⁄4 cup sugar

2 tbsp light or dark brown sugar

1⁄4 tsp kosher salt

4 large eggs

1⁄2 cup whole milk

1 1⁄2 cup canned pumpkin

3⁄4 cup unsalted butter

1 tsp vanilla extract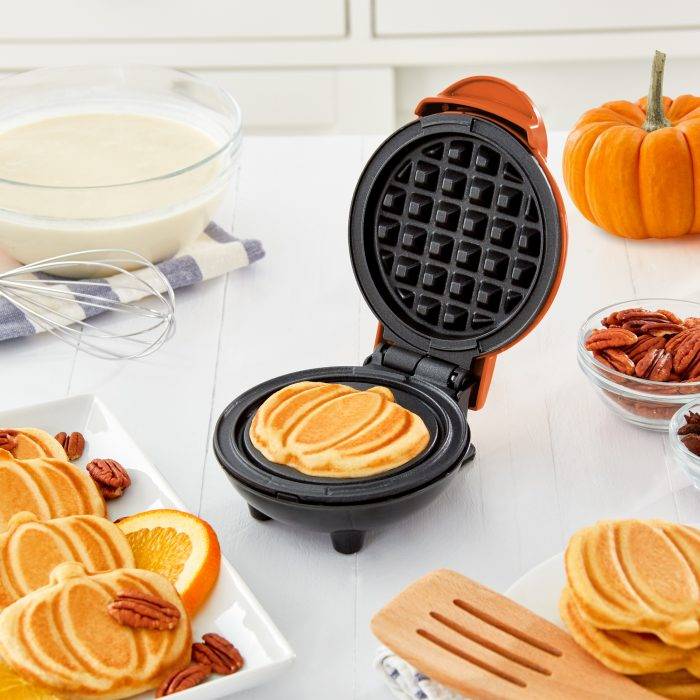 ---
Preheat the Pumpkin Mini Waffle Maker. Melt butter on a small pan over low heat. Shut off heat so butter is not hot when added to the mix. 
Mix dry ingredients together and set aside. 
Add eggs to a bowl and beat with a whisk. Add milk, pumpkin, butter and vanilla, mix to incorporate. 
Add dry ingredients into wet in three rounds, fully incorporate all dry ingredients before added the next round.
Grease the Mini Waffle Maker with butter or a small amount of non-aerosol cooking oil. Add 3 tablespoons of batter into a preheated Pumpkin Mini Waffle Maker and cook until the waffle is cooked through (about 5-6 minutes). 
Try it out at home, pull out your cozy knits, light that apple cider candle, and don't forget to share it with us @unprocessyourfood on Instagram, @Dash on Facebook, and @cookwithdash on Twitter!!