25% OFF Today
Promo code: SLICE
The Dash Safe Slice Mandoline offers a safer way to cut like a pro. The unique design prevents your hands from ever going near the built-in blades, making this mandoline the safest option for an expert slice. With 30+ slicing options, the mandoline cuts perfectly-even slices from 1-8mm in thickness while also offering julienne, matchstick and dicing options. Complete with a recipe guide with dishes including coleslaw or potato chips, the Safe Slice Mandoline makes food prep quick and easy.
Slice, julienne, and dice in minutes for easy food prep.
Spring-loaded handle pops up, so just push down to slice in seconds.
30+ different preset cuts with varying thicknesses.
Thickness adjuster allows for custom control in a range of 1-8mm (.03-.3")
Compact design folds down for easy storage.
Cleaning brush eliminates buildup in the blades and makes cleaning safe.
Food catch container keeps your countertop clean.
1-year manufacturer warranty, 2-year warranty available with registration to the Feel Good Rewards program.
Designed in NYC. US-based Customer Support available.
HEIGHT: 14 in
WIDTH: 4.7 in
LENGTH: 11 in
WEIGHT: 1.4 lbs
Package Includes:
Dash Safe Slice Mandoline
Cleaning Brush
Recipe Guide
Real Customers Real Results
"Thank you for making this, I've had issues using knives for years because my hands don't do what I tell them sometimes and drop things even more frequently. I wish I would have ordered this years ago."
Kim  -  2 JAN 2030, 12:21
"This is such a great invention! I've started cooking a lot more vegetables in our meals and this makes it so much easier to chop any veggie I need for dinner without worrying about cutting my fingers. Easy to clean too."
Alexa  - 23 JAN 2020, 11:42
"This device is a game changer! Not only are the results restaurant-level impressive, but this one makes good on the promise that anyone can use it SAFELY. "
Jenny  - 23 OCT 2019, 1:42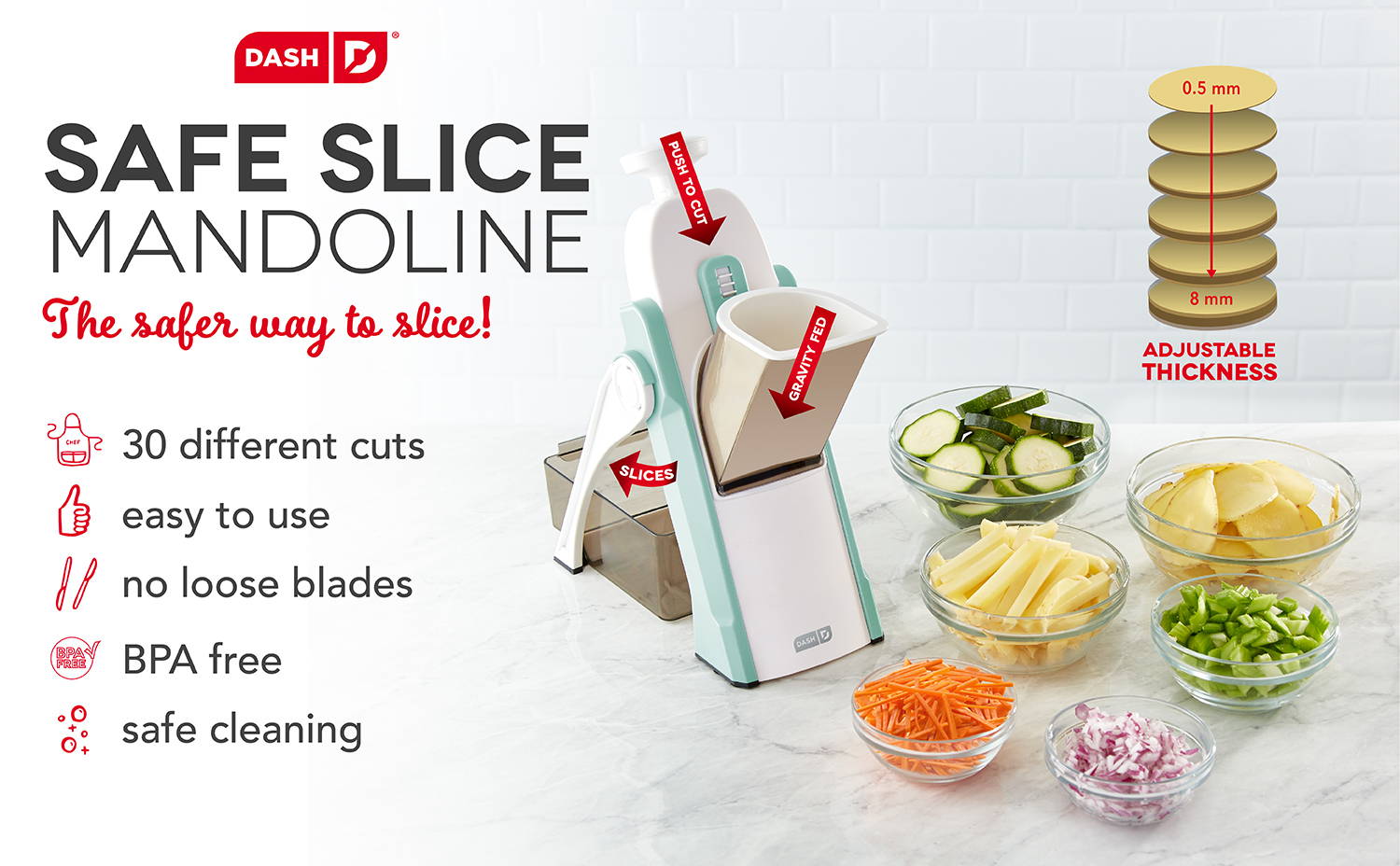 25% OFF Today
Promo code: SLICE