Compact Cold Press Power Juicer
SKU# DCSJ200GBAQ06
OVERVIEW
Make delicious cold-pressed juice with the Dash Compact Cold Press Power Juicer. Just add fresh fruit and let this juicer do the work, fully separating pulp from juice and ensuring you get the most nutrients in your drinks. Juice made with the Cold Press Power Juicer oxidizes more slowly, meaning your juice stays fresh for longer! The Juicer comes with everything you need, including an Ingredient Pusher, Cleaning Brush, and Measuring Cup for pulp. The compact size is perfect for smaller kitchens, and is a great space-saver for anyone looking to make cold-pressed juice at home without sacrificing power and durability.
Features & Benefits
Fully extracts all the goodness from your fresh produce for nutrient-rich juice. Just add your fruit and use the Ingredient Pusher: the juicer does the rest! Pulp separates from juice cleanly for easy disposal. Powerful enough to make almond and cashew milk! Compact size is a convenient alternative to centrifugal juicers. Includes: Dash Compact Power Slow Juicer, Pulp Measuring Cup, Cleaning Brush and Recipe Guide. 1-year manufacturer warranty, 2-year warranty available with registration to the Feel Good Rewards program. Designed in NYC. US-Based Customer Support available. DCSJ200
SPECIFICATIONS
HEIGHT: 14.2
WIDTH: 3.9
LENGTH: 4.9
WEIGHT: 3.4
CORD LENGTH: 35
POWER RATING: 130 watts
cETL: YES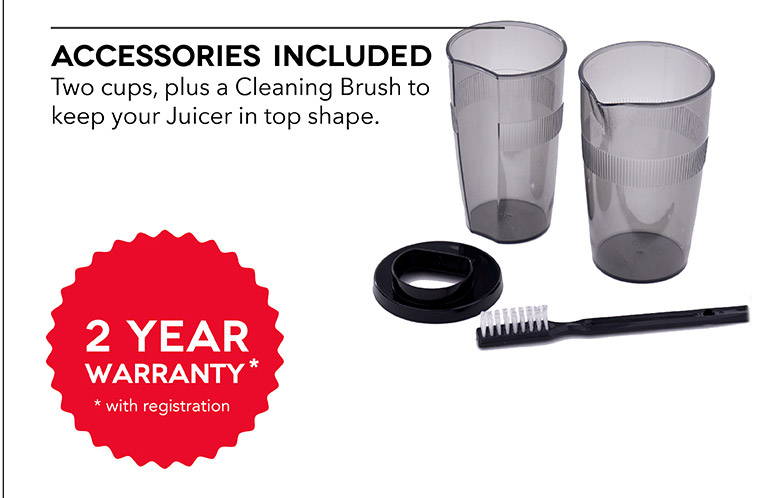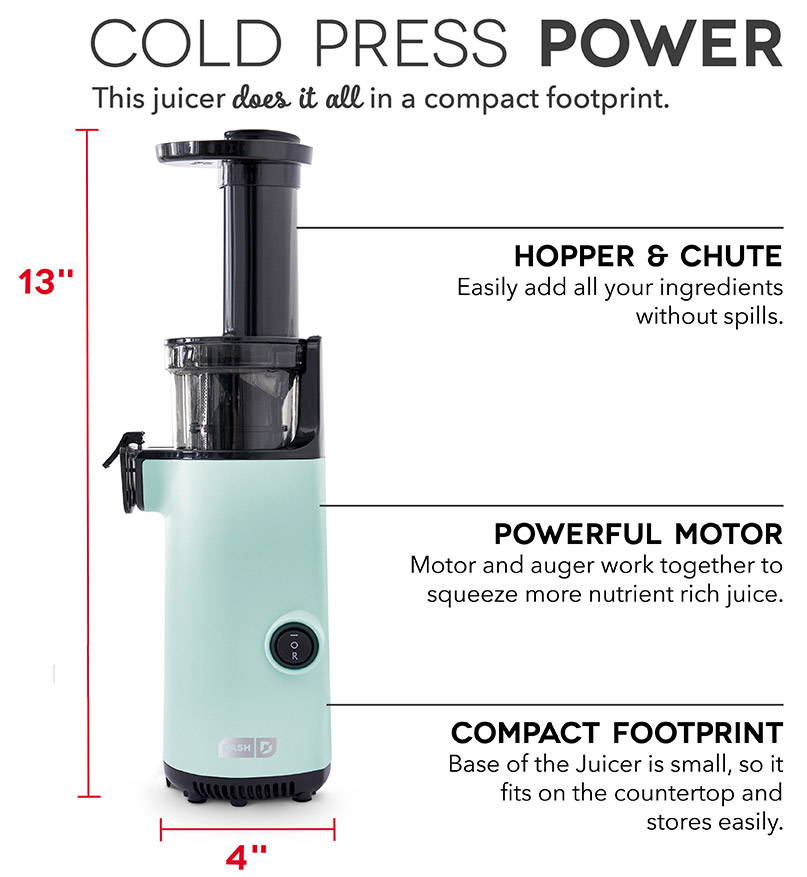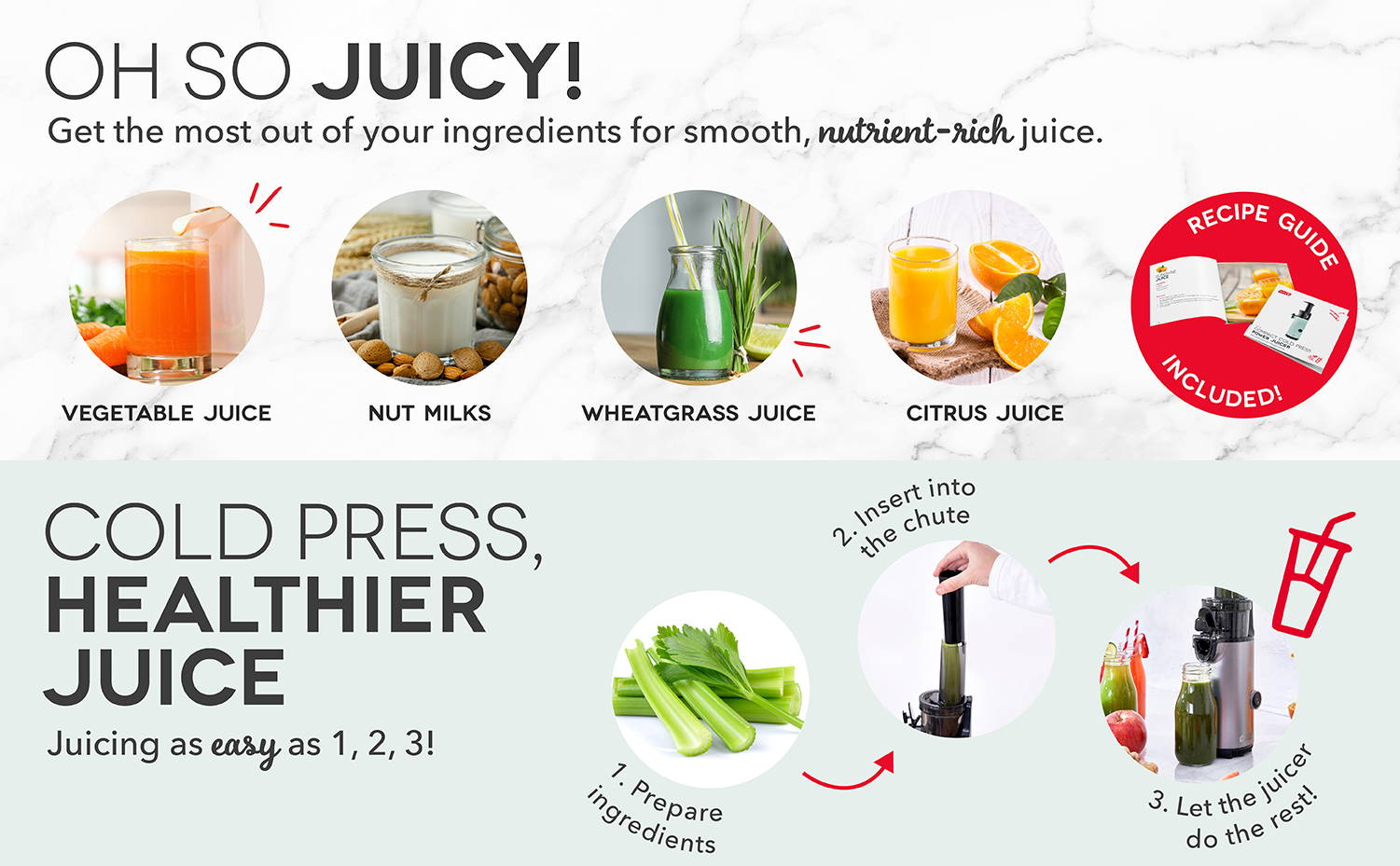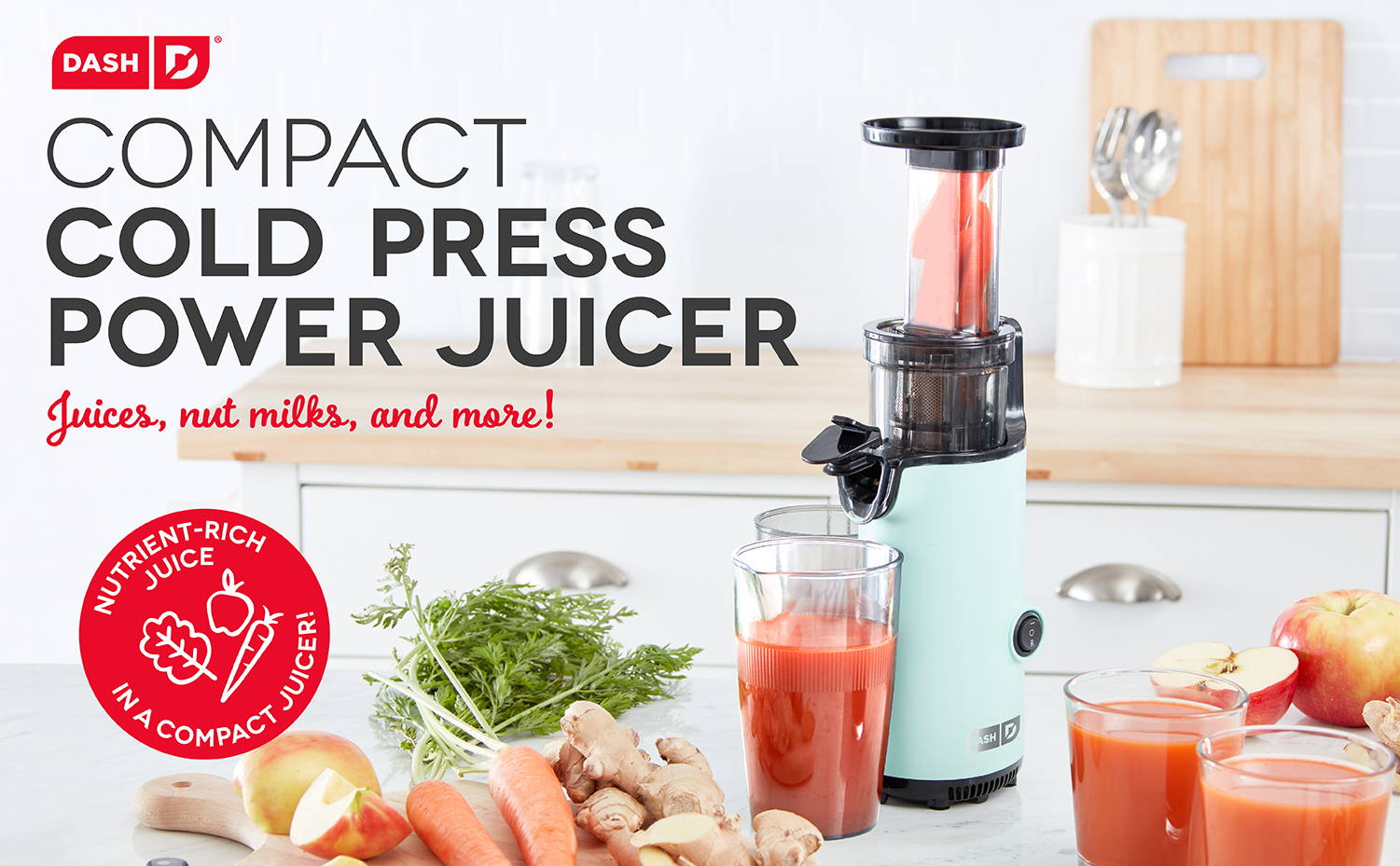 Love the size
Can't wait to take this little powerhouse on short trips. It's a great little juice that works phenomenally for it's size. I would highly recommend to anybody that needs to pack lightly for a trip but wants to continue juicing.
Great for Single serving drinks
This is a fantastic juicer. It does a really good job with extracting all of juices and outputting the pulp/ skin. I use this in the morning to make a juice for me and my husband to take on the go. Would recommend
The only two things I wanted to mention. Not necessarily Cons but just wanted to mention before you purchase.
1. This juicer is not an industrial juicer. It is meant for single servings. Don't expect to make gallons/ liters of juice for later storage.
2. If you are juicing citrus fruit, like Oranges, Lemons, Grapefruit, etc.. make sure to have a "harder" fruit to process along with it. The pulp from the citrus fruit gets very mushy and I use an apple to help push some of the pulp out. So I typically will do an orange, then a couple pieces of apple to help clean out the pulp.
Great product! Easy to store and use. Would recommend
Fair company good to do business
I have several Dash products and have been a repeat customer. I decided to try their juicer. I used this juicer 1 time and it did not perform well. I was not satisfied and contacted the company with my concerns. They made it right. The 5 stars are for DASH. The juicer got 1.
Great juicer
This is a great juicer and the price is very good. It can't do a ton at once but still fast and easy to use. It gets all the juice out. I am very pleased with it.
Love this compact juicer!
Recently sold my home in California and traveling in a cabover camper to find a better lifestyle. I really need to juice for health reasons and my home juicer is enormous. I was hesitant about this little juicer, but I am absolutely thrilled with the results. I do not juice berries and fruits which have read are a problem. Staying away from fruit sugars and sticking to wheatgrass, ginger, and other greens such as celery and kale, I have found this little juicer to be a delight with its' ability to separate the juice from the fiber. I have seen others post that it doesn't grind the items well. and is hard to clean out the fiber spout. I chop my ingredients to fairly small sections and feed it in small amounts through the shoot. I have not had any jamming and the consistency of the juice is absolutely perfect. Cleaning is a bit tedious, like all juicers, but just pull out the rubber stopper, and use the other end of the included brush to push the fiber out of the exit slot inward towards the "bowl". Then use the same brush end to go around the bottom of the bowl to help scoop any remains. Not a big deal, imo. This little juicer fits well in my limited space and is perfect for my needs. Love it!