Compact Cold Press Power Juicer
SKU# DCSJ200GBAQ06
Why buy from us?
Easy Returns
365 Day Warranty
Free Shipping over $50
OVERVIEW
Make delicious cold-pressed juice with the Dash Compact Cold Press Power Juicer. Just add fresh fruit and let this juicer do the work, fully separating pulp from juice and ensuring you get the most nutrients in your drinks. Juice made with the Cold Press Power Juicer oxidizes more slowly, meaning your juice stays fresh for longer! The Juicer comes with everything you need, including an Ingredient Pusher, Cleaning Brush, and Measuring Cup for pulp. The compact size is perfect for smaller kitchens, and is a great space-saver for anyone looking to make cold-pressed juice at home without sacrificing power and durability.
Features & Benefits
Make delicious cold-pressed juice with the Dash Compact Cold Press Power Juicer. The Compact Cold Press Power Juicer fully extracts all the goodness from your fresh produce for more nutrient-rich juice. Just add your fruit and use the included Ingredient Pusher, the juicer does the rest. Pulp separates from juice cleanly for easy disposal. Powerful enough even to make delicious almond and cashew milk! Compact size is a convenient, space-saving alternative to other centrifugal juicers. Includes cleaning brush, so you can keep the juicer in top shape. Includes: Dash Compact Cold Press Power Juicer, Pulp Measuring Cup, Cleaning Brush and Recipe Guide. 1-year manufacturer warranty, 2-year warranty available with registration to the Feel Good Rewards program. Designed in NYC. US-Based Customer Support available.
SPECIFICATIONS
HEIGHT: 14.2
WIDTH: 3.9
LENGTH: 4.9
WEIGHT: 3.4
CORD LENGTH: 35
POWER RATING: 130 watts
cETL: YES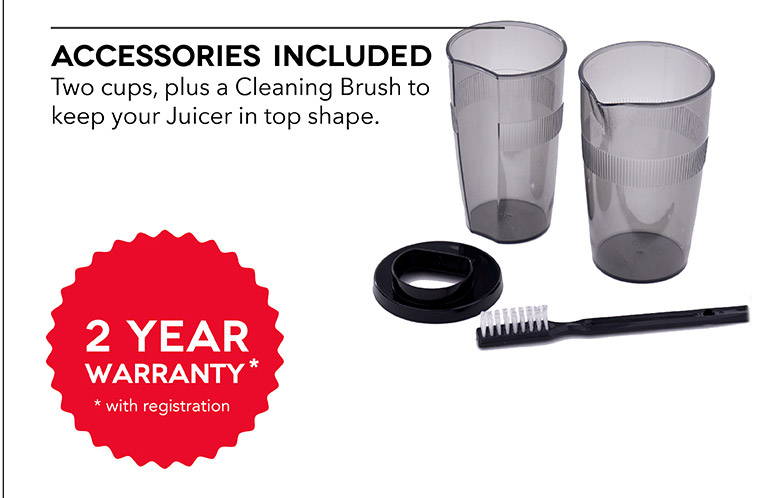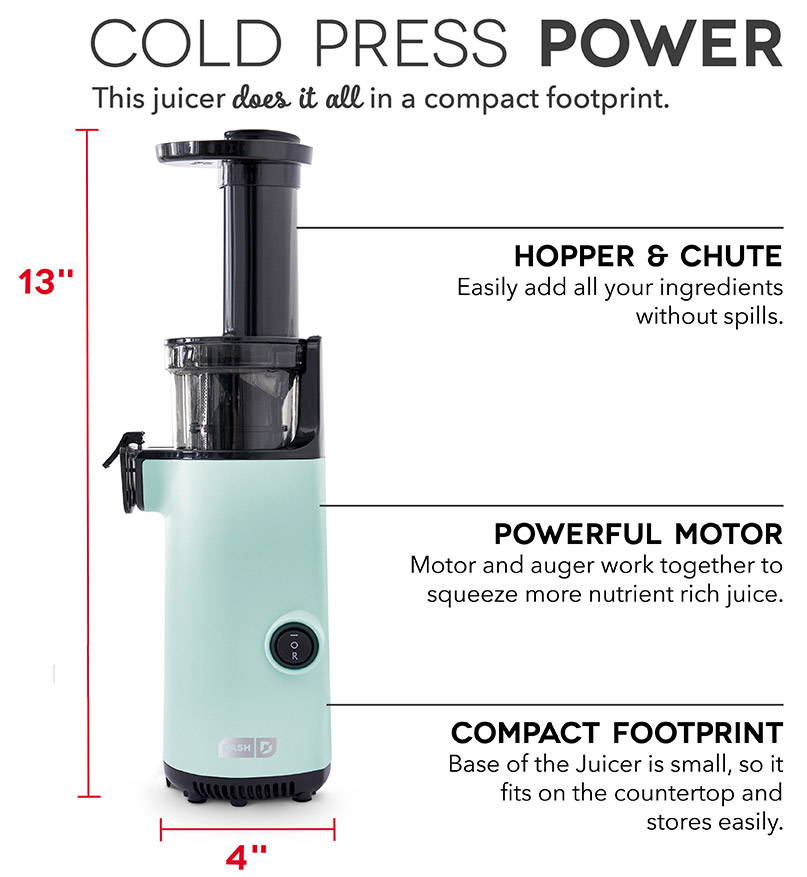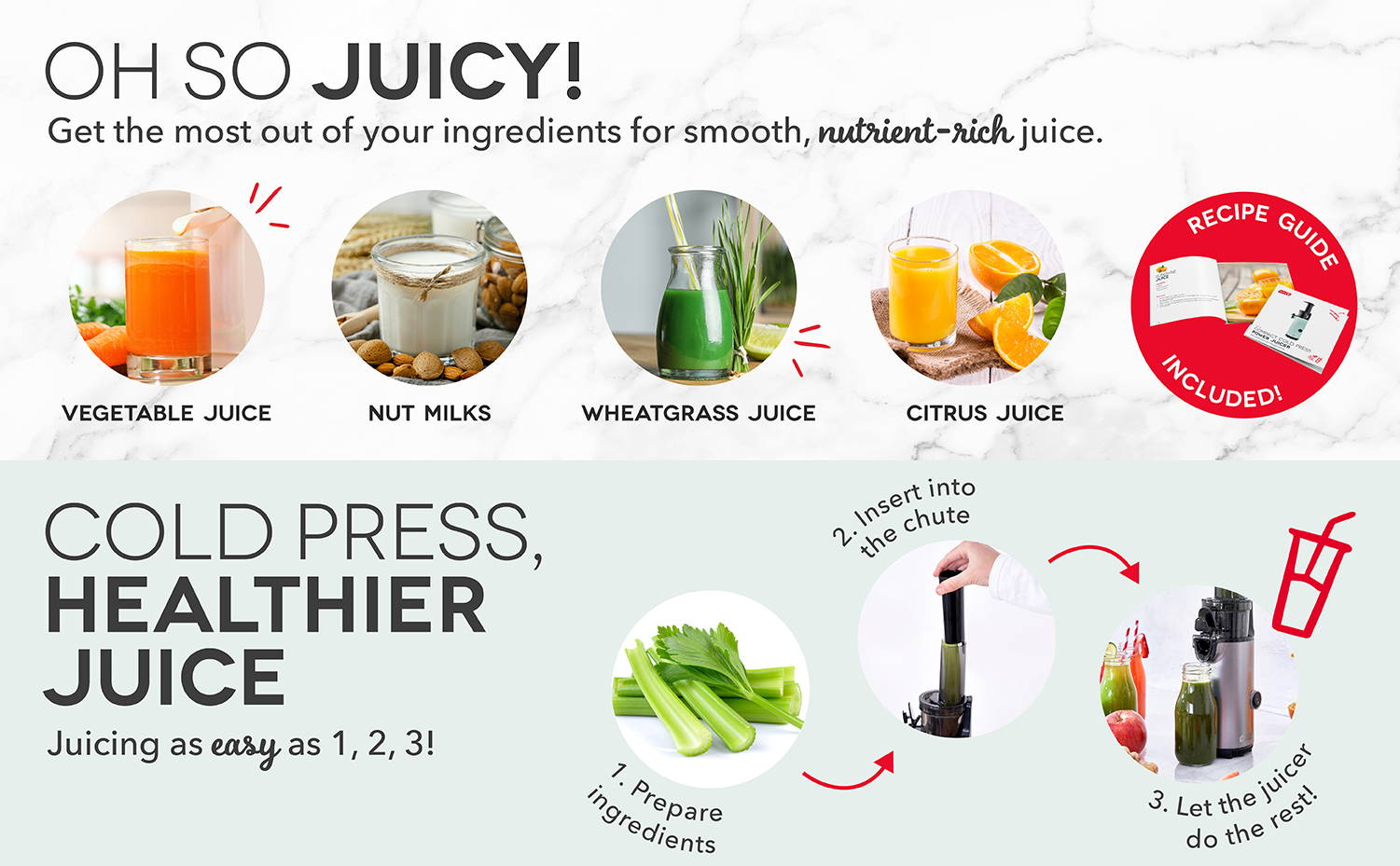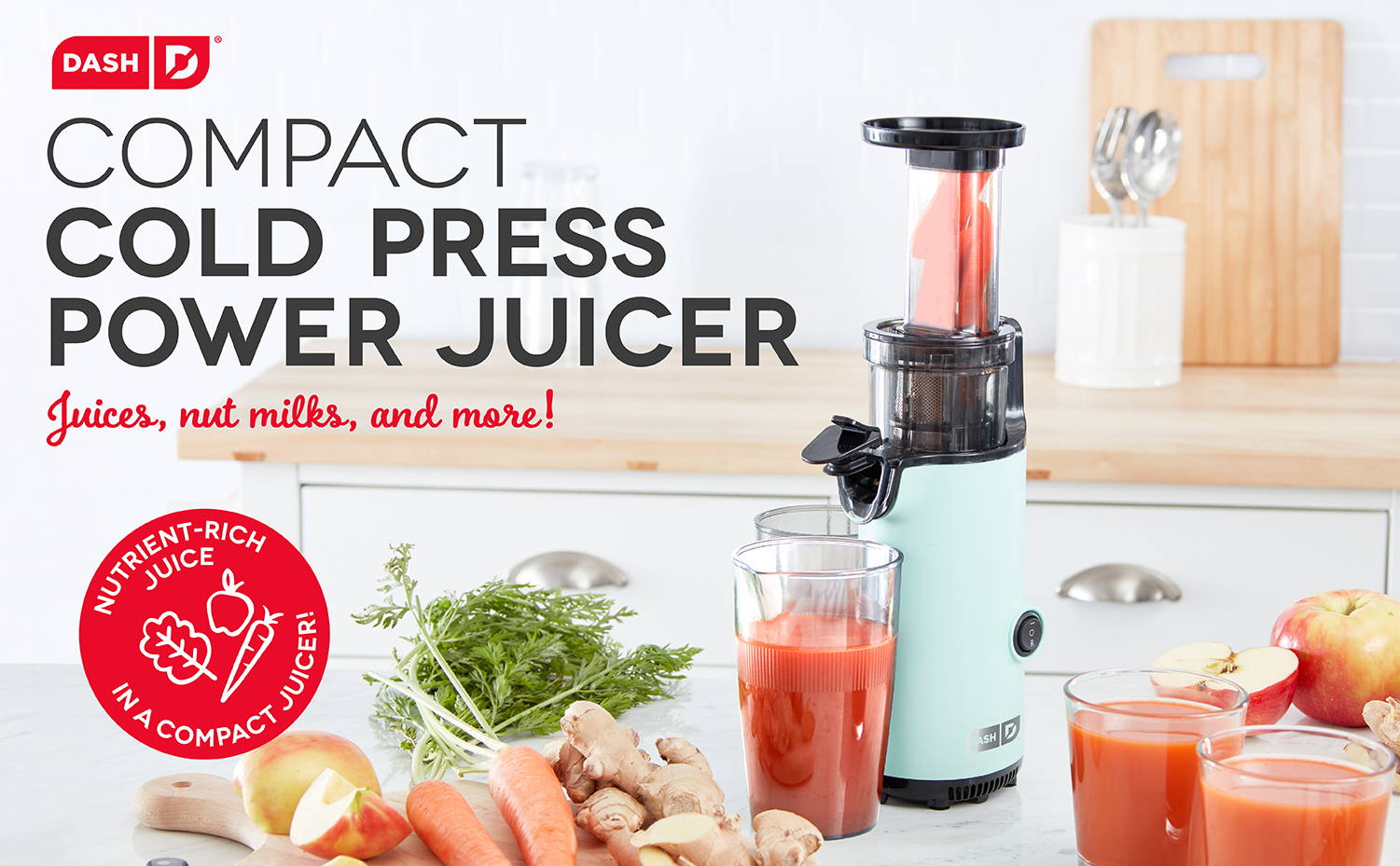 Fabulous Little Gem! ⭐️⭐️⭐️⭐️⭐️
This is an amazing little juicer! I am truly impressed with it, I love it and now I can't live without it! I love that it's compact and I can take it anywhere. The juices are not pulpy, the way I like them, even juices leafy greens and things like parsley really, really well! Haven't tried making nut milk yet, I'm looking forward to it! It's not any noisier than a regular juicer, and it cleans up really easy. I can't say enough good things about this juicer! Thanks Dash! I love all your products but this juicer the most. You guys are GENIUS!
Smaller than I expected and doesn't extract juice like I thought it would. Only tried with peaches, but am going to try other fruit.
Does exactly what it's designed for
Makes juice that is great! Quality of juice is dependent on the types of veg you put in. Would like to see a wider hopper for small greens like spinach but it does the job fine. This version did not come with frozen attachment but is compatible with it if you get it seperately. I thought cleaning was difficult at first but there is a rubber stopper that you have to pull out in order to clear the pulp chute. Device becomes much easier to clean once that's opened. Gasket under auguer isn't a perfect seal, I find a little juice gets out sometimes when juicing stringely veg like celery. Pulp is mostly dry but you could probobly squeeze a little bit more juice out of it if you had a mechanical press or something. I dry my pulp out in the oven and make crackers with it. Overall would buy again very good product.
The best juicer I've ever had!
I switched to this juicer and it was the best decision ever. It's so easy to disassemble and clean, not super loud and does a great job with harder things like carrots. I'm so impressed! I use it every morning and I have 0 complaints.
Small juicer
This juicer does the job. I use it for making celery juice. It's a bit of a pain to clean but for the price, it's worth it.