Delish by Dash Stand Mixer
SKU# DCSM350GBBU02
Why buy from us?
Easy Returns
365 Day Warranty
Free Shipping over $50
OVERVIEW
Make something Delish in a Dash with the Delish By Dash Stand Mixer! This stand mixer is perfect for budding bakers and everyday cooking needs, from mixing to beating to whipping. 5-speed power allows you to make your favorite baked goods, sides, and whipped desserts, and the mixer comes with Beaters and Dough Hooks so you can tackle a range of recipes. The 3.5QT Stainless Steel Bowl is dishwasher safe, and the lever on the base allows you to move the bowl from side to side while mixing so ingredients are thoroughly combined. When you're done, cleanup is a snap: beaters release with the touch of a button and the bowl is removable. Plus, enjoy over 10 recipes specifically chosen by the editors at Delish!
Features & Benefits
Make delicious baked goods, side dishes, whipped desserts, and more with the Delish By Dash stand mixer. 5-speed power, perfect for mixing, beating, and whipping. 3.5QT Stainless Steel Bowl with lever on the base that allows you to add or reincorporate ingredients while mixing. Head of the Stand Mixer lifts easily for cleaning and adding ingredients. Lightweight construction makes it easy to clean, move, and store the mixer. Includes 2 Stainless Steel Beaters and 2 Dough Hooks for all kinds of baking and mixing projects. Easy Release Button on top of the Stand Mixer makes removing accessories simple. Choose from a range of colors that complement your kitchen. Over 10 recipes from Delish editors included! Includes: Delish By Dash Stand Mixer, 2 Beaters, 2 Dough Hooks, Stainless Steel Bowl, Instruction Manual and Recipe Guide. 1-year manufacturer warranty, 2-year warranty available with registration to the Feel Good Rewards program. Designed in NYC. US-Based Customer Support available. DCSM350 350 Watts
SPECIFICATIONS
HEIGHT: 10.4
WIDTH: 8
LENGTH: 11.5
WEIGHT: 4.64
CORD LENGTH: 40
POWER RATING: 350 watts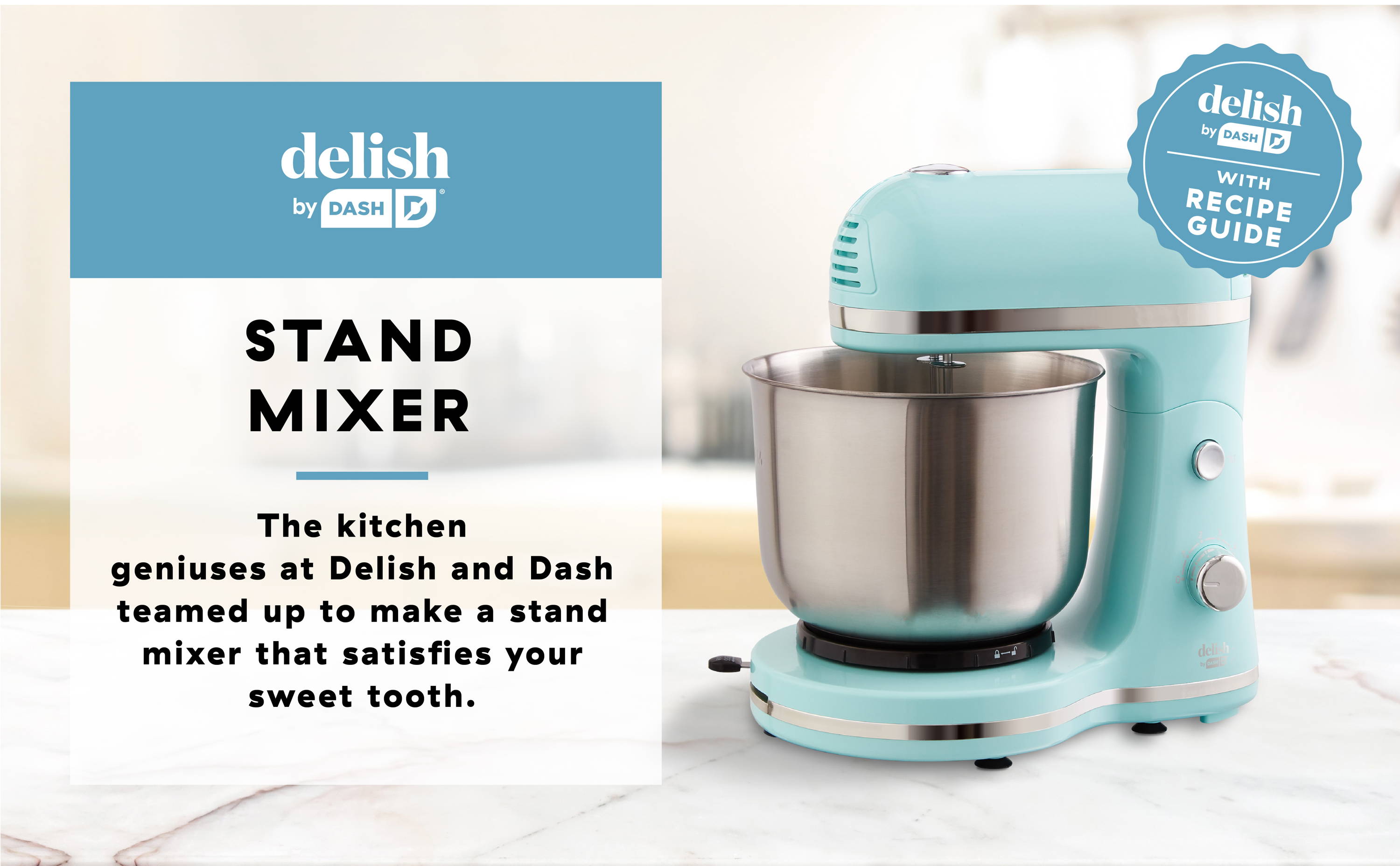 ---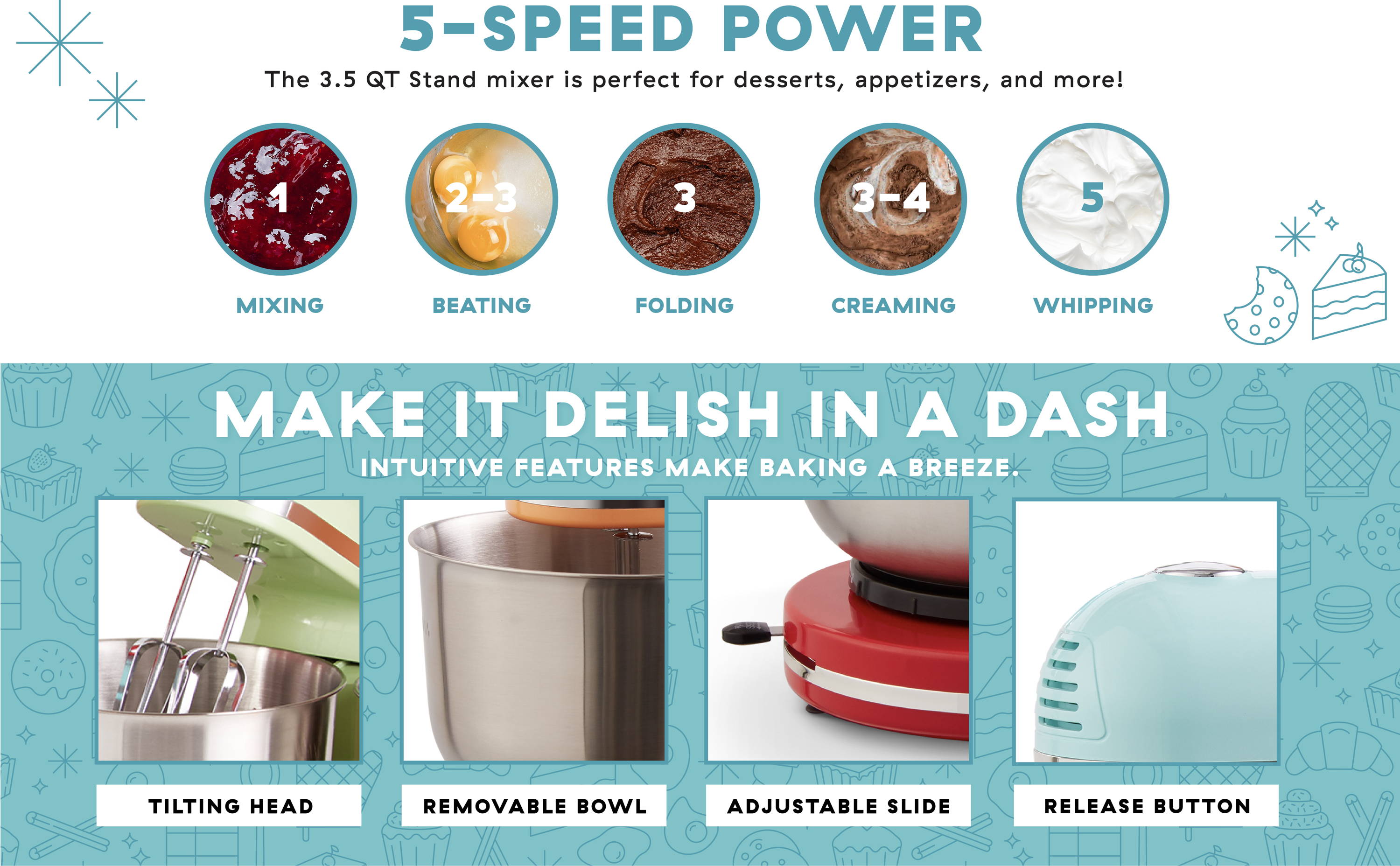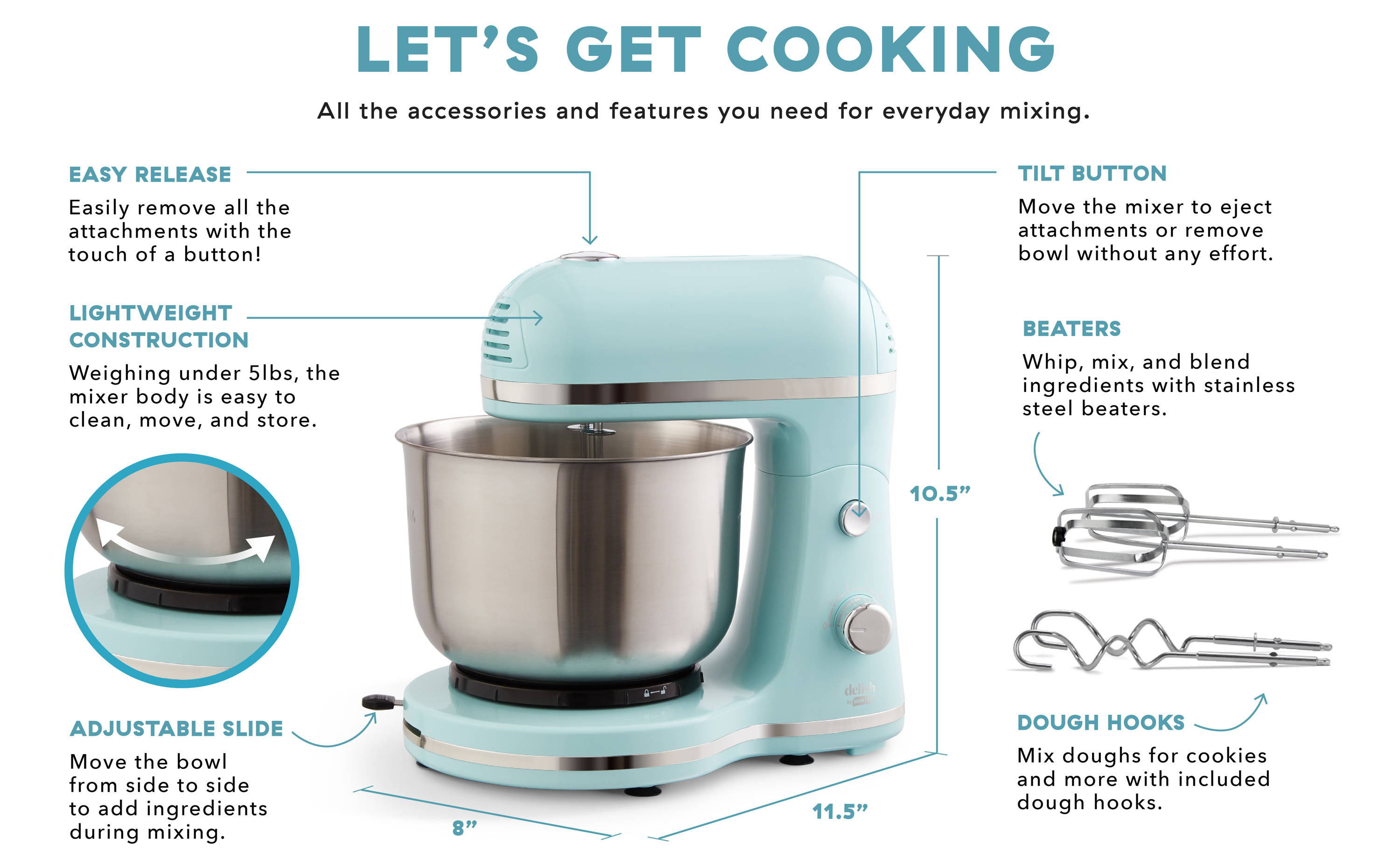 Great Stand Mixer
I have always wanted to get a stand mixer, but the price of most of them are just way too much money. When I saw that DASH had one in their products, I immediately got myself one, in RED of course. It's great I love it.
Dash Stand Mixer
I purchased this for my MIL who has neuropathy in her hands. She has been using it 1-3 times weekly with no issues. She has made bread dough, KETO fat bombs, omelets and mixes her seasoning into ground beef with ease. When hers finally gives out, I will purchase another one because she loves it so much.
Delish By Dash Stand Mixer
Doesn't work
Hello, we purchased this but it doesn't mix whatsoever.
We had to actually take the bowl off and then just mix by hand.
Totally doesn't work.
Hoping we can hear from someone on a return as this is useless to us unfortunately.
Disappointed in manufacturing materials
After purchasing many of the Dish products I expected so much more from this $80.00 mixer. For one you would expect the mixer to be made out of something stronger than plastic. Most importantly a mixer should be able to run for longer than 3 minutes which is the max run time for the Delish by Dash. Would definitely not recommend this mixer to another person. 3 minutes, max run time....unbelievable! That is NOT a mixer it's an expensive child's toy.
Hi Kathy,
We are very sorry to hear about your experience with our product. We certainly want to make this right, and will reach out to you momentarily to get this resolved for you.
Sincerely,
The Dash Team