There's no denying that air fryers are one of the most popular kitchen appliances right now. It seems that they can do almost anything. But how many different meals can you actually cook in an air fryer? The good news is that there is so much that can be air fried. The bad news is that the list is too long to fit into one blog post!
We've pulled 10 recipes for an air fryer that might surprise you. Specifically, we've chosen recipes for our 3 Quart Deluxe Air Fryer. If you have a different sized air fryer, you can always adjust the recipes to the size you need. Just make sure not to overlap ingredients so they're all equally crispy.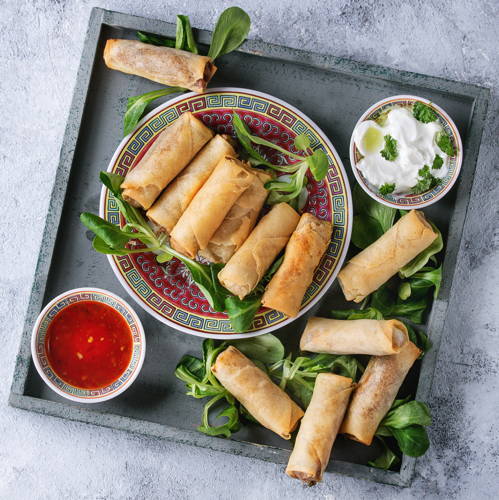 Ingredients:
1 lb ground pork
2 cups garlic chives, cut into 2-3" slices
1 cup shiitake mushrooms, sliced
2 cups carrots, shredded
1 tbsp peanut oil
2 tsp Thai shrimp paste
Thai soy sauce to taste
10-15 egg roll wrappers
Vegetable oil, as needed
Directions:
Heat peanut oil in a large saute pan on medium. Add pork and cook 3-5 minutes, breaking up large chunks. Add garlic chives, shiitake mushrooms, carrots, shrimp paste and soy sauce. Cook 10-15 minutes, stirring, until pork is mostly cooked through and moisture from vegetables has evaporated from the pan. Remove from heat and let cool.
Place approximately 3 tbsp of mixture at the base of egg roll wrapper, ½ inch from the bottom edge and ½ inch from the sides. Tuck in both sides and roll the wrapper to enclose mixture. Wet the top ½ inch of the egg roll wrapper to seal roll.
Place 3-4 egg rolls in Air Fryer in one layer, avoiding overlapping or wrappers touching each other. Drizzle with vegetable oil. Fry 10 minutes at 400℉until wrappers are golden brown on top.
Flip egg rolls and fry another 10 minutes.
Ingredients:
2 slices white, whole wheat, or potato bread
½ cup to ⅔ cup sharp cheddar, shredded
1 tbsp butter, melted
Directions:
Spread shredded cheddar evenly between sliced bread.
Place sandwich into Air Fryer and fry for 10 minutes at 350℉.
Remove from the Air Fryer and brush both sides with melted butter. Serve with tomato soup, if desired.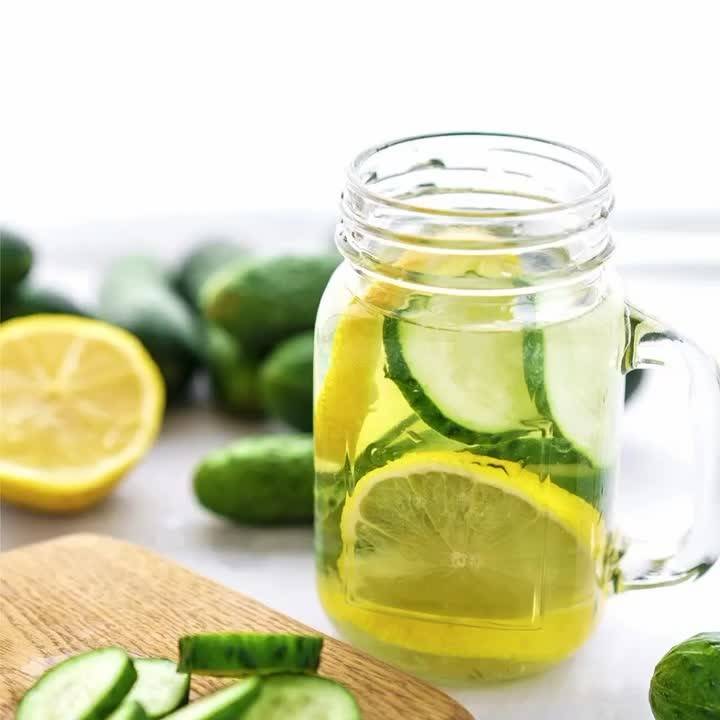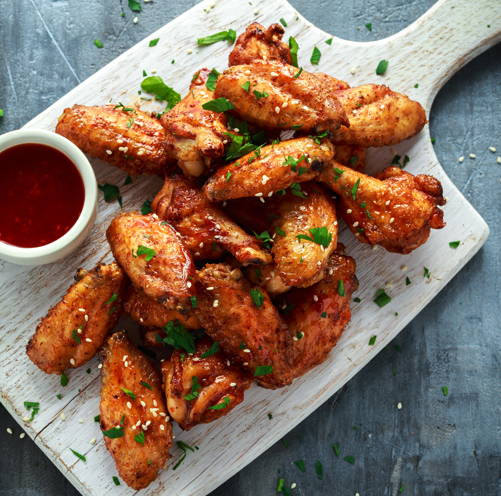 Ingredients:
4 complete chicken wings, split into flats and drumsticks
½ tsp kosher salt
1 tsp 5 spice powder
½ cup all-purpose flour
1 tsp vegetable oil
Directions:
Place chicken wings on paper towels and pat to dry thoroughly. Toss with kosher salt and 5 spice powder.
Dredge chicken wings in all-purpose flour and shake off excess. Toss chicken wings with vegetable oil.
Place wings in the Air Fryer and fry for 25-30 minutes at 400℉, until crispy and cooked through.
Ingredients:
1 lb ground beef, 90% lean
1 egg, beaten
¼ cup panko breadcrumbs
½ tsp garlic powder
½ tsp onion powder
½ tsp smoked paprika
½ tsp ground black pepper
2 tsp kosher salt
½ tsp Worcestershire sauce
⅛ tsp cayenne pepper (optional)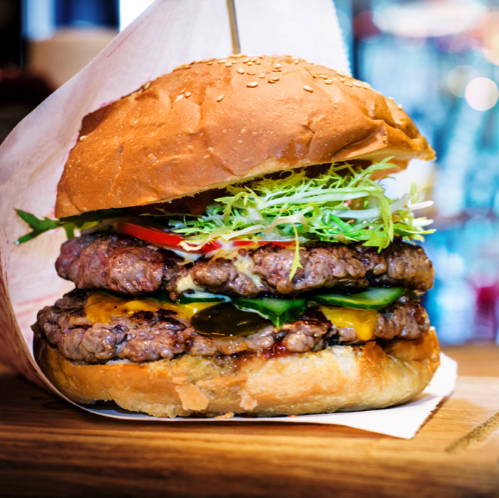 Combine all ingredients for the burgers in one large bowl and mix by hand until thoroughly combined.
Form into 4-5" patties and place 2-3 patties at a time into the Air Fryer.
Air Fry at 375℉ for 10 minutes or until desired doneness. Serve with desired burger bun and accompaniments.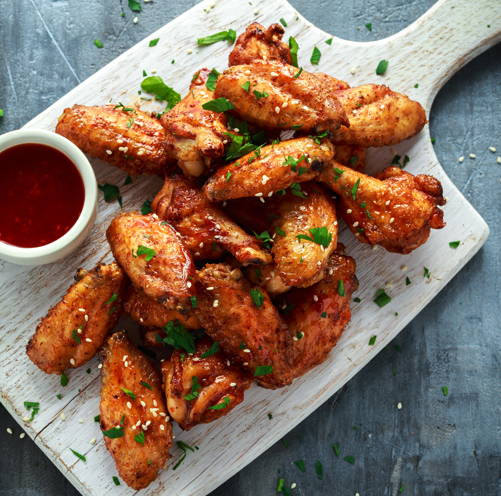 Sesame "Chicken" Style Tofu
Ingredients:
1 block extra-firm tofu, drained, pressed, sliced in ½" thick rectangles
1 tsp vegetable oil
Sesame "chicken' sauce
½ cup soy sauce
3 tbsp white sugar
2 tbsp mirin
¼ tsp garlic, minced
¼ tsp ginger, peeled, minced
2 tsp sesame oil
1 tbsp sambal chili paste
1 tbsp cornstarch
¼ cup water
Toppings:
1 tsp toasted white sesame seeds
1 scallion, sliced
Directions:
Toss tofu with vegetable oil. Separate tofu into 3-4 batches and place into the air fryer one batch at a time, in one even layer. Air Fryer for 20 minutes at 350℉, turning once halfway.
In a small saute pan; combine the chicken stock, soy sauce, white sugar, mirin, garlic, ginger, sesame oil, and sambal over low heat. Whisk together cornstarch with water.
Once the stock mixture is simmering, add the cornstarch slurry and whisk to combine, for about 1-2 minutes. Remove from heat and toss the tofu in the sesame sauce. Top with white sesame seeds and scallions.
Ingredients:
8 oz salmon fillet, skin on or off
½ tsp kosher salt
1 tsp unsalted blacking seasoning
2 tsp parsley, chopped (optional)
½ lemon, wedged (optional)
Directions:
Season the salmon on both sides with salt and blackening seasoning. Air Fryer the salmon at 400℉ for 10-15 minutes, depending on the desired level of doneness. Serve with lemon and parsley is desired.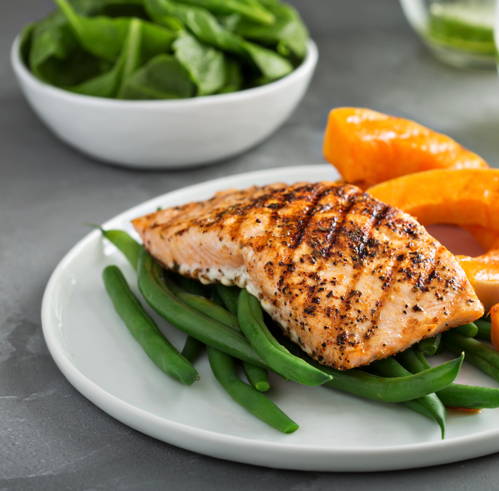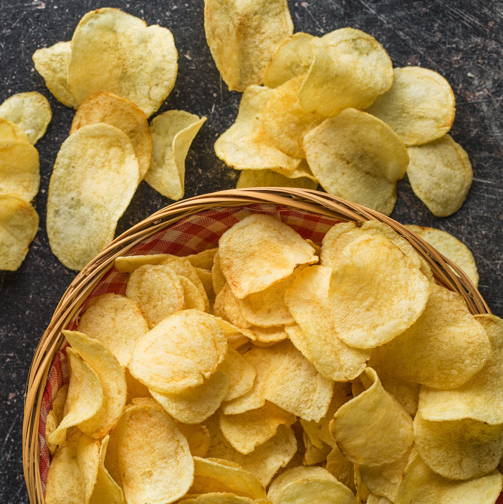 Ingredients:
1 russet potato, thinly sliced with a mandoline
½ tsp vegetable oil
¼ tsp kosher salt
Directions:
Place potato slices in cold water for 30 minutes. Rinse and pat dry with paper towels.
Toss potato slices with oil and kosher salt. Place potato chips in Air Fryer, one layer at a time, being careful to minimize overlap. Air Fryer for 10 minutes at 400℉, shaking once halfway through the process
Brussels Sprouts with Sweet Thai Chile
Ingredients:
2 cups brussels sprouts, stemmed, halved, shaved thinly with a knife
1 tsp vegetable oil
¼ tsp kosher salt
½ lemon, cut into wedges (optional)
Sweet Thai Chile:
1 tbsp sambal
1 tsp rice vinegar
¼ cup water
1 tbsp white sugar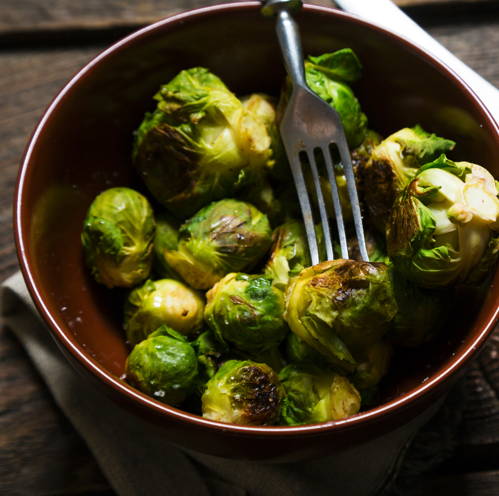 Directions:
Toss brussels sprouts with vegetable oil and salt. Place into Air Fryer at 400℉ and fry for 10 minutes.
Heat water in small pot over low heat and add sugar. Stir until sugar is melted.
Remove from heat and add sambal and rice vinegar. Whisk to combine.
Serve brussels sprouts with lemon wedges and chile sauce.
Ingredients:
½ cup unsalted butter
½ cup sour cream
¾ cup white sugar
2 eggs
1 ¼ cup all-purpose flour
2 tbsp unsweetened cocoa powder
½ tsp kosher salt
½ tsp baking soda
1 oz red food coloring
Cupcake liners, double lined
Directions:
Cream butter, sour cream, and sugar in a mixer until smooth. Add the eggs, one at a time, and mix until incorporated. Whisk together flour, cocoa powder, salt, and baking soda in a separate bowl. Add the flour mixture to the butter mixture slowly, leaving the mixer on throughout the process.
When the cupcake batter is thoroughly combined, add the red food coloring. Place 2-3 cupcake liners into the Air Fryer. Dollop approximately 1 tbsp of cupcake batter per cupcake liner. Air Fry at 375℉ for 12-15 minutes, or until a toothpick inserted into the center comes out clean.
Herb & Garlic Roast Chicken
Ingredients:
1 3-4 lb chicken, whole
3 cloves garlic, sliced
¼ yellow onion, sliced
¼ lemon, sliced, halved
2 sprigs thyme
2 sprigs rosemary
1 bay leaf (optional)
1 sprig sage (optional)
Kosher salt
Black pepper
1 tbsp olive oil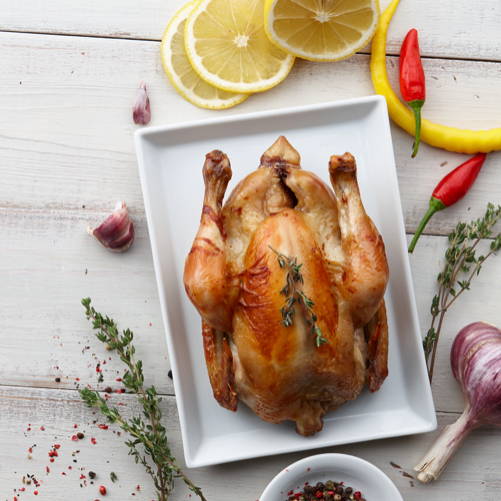 Directions:
Remove chicken innards, if any. Pat chicken dry with paper towels. Liberally salt and pepper both outside and inside of the chicken. Toss together garlic, onion, lemon, thyme, rosemary, bay leaf, and sage and stuff inside the chicken. Drizzle olive oil on chicken and rub into skin. Truss chicken. Place in Air Fryer with breast side up. Cook at 400℉ for approximately 50-60 minutes until the thickest part of the thigh registers at 178℉ on a meat thermometer. Remove from Air Fryer and let rest for 5 minutes before carving.